Experience a one-of-a-kind Journey to Earth's most biodiverse region—the sacred headwaters of the Amazon rainforest.
An Invitation from the Indigenous People of the Amazon Rainforest
Pachamama Alliance offers Journeys that are purposeful, transformative, travel immersions that go well beyond traditional eco-tourism or adventure travel.
Pachamama Alliance has nearly 20 years of experience working with five indigenous groups in the Ecuadorian Amazon to protect their land and culture from oil development.
These groups, our indigenous partners, have invited us to visit and learn from them so that we may carry their wisdom and message home.
Journey with us to step away from the familiar and immerse yourself in an expansive new way of seeing the world.
Learn More from David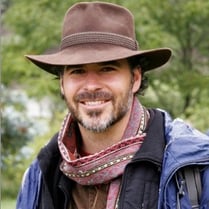 Our calls are facilitated by Pachamama Journeys Program Director, David Tucker, who has led hundreds of participants on dozens of journeys over the past 18 years. He is a dedicated ally and friend to our indigenous partners.
On the 1-hour call David Tucker will
Introduce you to the profound, life-changing experience of visiting the sacred headwaters of the Amazon
Discuss our special Journey offerings to the high desert of New Mexico
Answer any questions you may have about Journeys